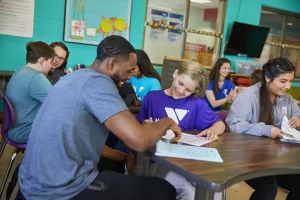 Our after-school program focuses on building self-confidence and character. We emphasize the Y's four core values in character development — caring, honesty, respect, and responsibility – in every activity and interaction. In addition to supplementing what students learn in school, they have the opportunity to participate in a variety of structured activities, get assistance with their homework from trained YMCA staff, have a chance to socialize with their peers and form new relationships.
STEM
Arts & Crafts
Character Development
Peer Socializing
Homework Assistance
Reading Champions
Sports & Games
Fitness
Dates: January 2nd – June 23rd, 2024
Days and Times: Monday – Friday, 3PM-6PM
Cost: $595 per month
Grades: Kindergarten – 5th Grade
Space is limited, secure your child's spot now!
To register for our After School Program, you must complete the following steps. Registration will not be confirmed until all documents are submitted. 
All forms are attached above. Forms must be returned to Julia Borges via email or in person at the YMCA of Greenwich. 
JBorges@gwymca.org
203-869-1630 ext. 109
Activities
Daily snacks, themed fitness games, homework assistance, Reading Champions personalized tutoring, weekly enrichment activities and Friday free swim.
Bussing
Greenwich Public Schools will provide bussing to the YMCA from Julian Curtiss, Hamilton Avenue and New Lebanon schools ONLY. Students attending other schools will need to be dropped off at the YMCA by a parent or caregiver.
Food
Healthy snacks will be provided by the YMCA every day. Options for dietary requirements will be available, if necessary. Students are welcome to bring their own snacks as well.
Early Dismissal
Early dismissal days are included. Students will be bussed from Hamilton Avenue and New Lebanon schools at their early dismissal times.
Holidays
The program will not operate on school holidays. Vacation Camp Days at the YMCA are available for an additional fee.
Click here to learn more about Vacation Camp.
Financial Aid
We are committed to ensuring any family, regardless of financial status, feels welcome to apply to the program. We are more than happy to walk families through the financial aid process, via phone, email or in person.
Throughout the program, we'll regularly send parents information and resources about the program, including daily schedules, weekly snack menus, and monthly themes. Click the links below to view samples of these resources. 
Want to learn more before you register? Complete the form below and an After School Program Representative will be in touch with more information. Only one entry is necessary for each family.