WELCOME BACK!
FOR A SAFER US.
We are excited to welcome you back to the Y – we know you are excited to and we can't wait to see you!
Please take a few moments to review the updated policies and procedures when using the Y as we reopen. See you soon!
---
C.O.O. Corner with Michael Kelly
"C.O.O. Corner" Archive:
January 29, 2021 App Reservation Booking Update
---
YOUR SAFETY IS OUR PRIORITY
The YMCA of Greenwich's priority is to provide wellness facilities, programs and services in a safe and effective manner. Our "Wave" Reopening approach prioritizes the health and well-being of our members, staff and the community, using both CDC guidelines and the guidelines and recommendations of state and our local government authorities.
Below is what we are calling our "Wave A" operating model.  We have already dimensioned Waves B and C that we will implement as restrictions are lifted and we gain comfort in implementing the compliance procedures.  It is our hope that we can move promptly to Wave B but we are not willing to compromise your safety for speed.  We appreciate your continued support and patience.
---
Hours 

as of October 5:
CURRENT TEMPORARY HOURS
Monday – Friday: 5am – 10pm
Saturday & Sunday: 7am – 5pm
---
STAYING SAFE TOGETHER
WHAT OUR Y IS DOING
As we prepare to begin reopening our facility, we are implementing the following safety protocols in an effort to reduce the health risks for Members, Staff and other visitors to our facility.
* PPE for All Staff: All staff will be required to wear masks and other personal protective equipment.
* Temperature & Health Checks: Upon entry, for all Staff, Members and vendors

* As of Friday, June 26, we are going to cease taking Member temperature via the Thermal scan of hand-held thermometer

* Increased Cleaning Materials: You will find hand sanitizers, wipes, and spray bottles throughout the facility
* Increased Cleaning Staff: We have increased both the number and frequency of their rounds to address high contact surfaces throughout the building during the day and a deep cleaning each night.
* Increased Cleaning Protocols: Each Wellness Area will have its own cleaning protocols (described further below).
IMPROVED AIR QUALITY
In recent weeks, we have installed a start-of-the-art HVAC/climate control system that will move and filter the air in the safest and most efficient manner.
MAINTAINING A SAFE SOCIAL DISTANCE 
During Wave A we are working to ensure that are members and staff are maintaining a safe social distance. This includes limiting the capacity of our facility. Please note the following important requirements in order to quickly gain access upon our reopening:
Members will need to COMPLETE A PRE-ARRIVAL WAIVER
– This includes parents completing a waiver for children under 18 years old
– Will need to be completed one time prior to initial entry
– As we want to do contactless waivers, we are asking Members to log into their Active Account.

– See instructions below
– Waivers need to be completed electronically prior to your initial visit
Waiver Signage Instructions (Primary Member Only):
1. Login in via this link: https://apm.activecommunities.com/greenwichy/ActiveNet_Login

1. Enter the e-mail that you have on file for your membership. (This should be the email address that receives our communications)
2. If you do not remember your password, please follow the appropriate steps under the "Forgot your password?" link.
3. If you never created a password, please follow the same steps under the "Forgot your password" link.
4. Please note that your name must be the same spelling as the one we have in our system – please use this name when attempting to retrieve your password.
2. Once logged in, you will be prompted to sign an obligatory waiver for both Adults and Minors, per member.
Members will need to MAKE A RESERVATION
– In order to come to the Y, you will need to have made an online reservation for equipment, swim lane, class or area (e.g., Wellness Center)
– Reservation system opens 48 hours prior to reservation period
Make your reservation here: https://www.greenwichymca.org/fitness-reservations/ 
What to expect when visiting the facility:
1. Waivers should be completed before visiting the facility
2. Reservations will be required to enter the facility
3. Please sanitize your hands upon entry
4. Touch-less scan-in at the Front Desk
5. Temperature reading via thermal camera (87% accuracy) and Front Desk touch-less manual check
6. Staff will conduct a health check, verbal questionnaire
---
MEMBERS & STAFF
The following outlines Wave A opening of our Y as it relates to entry to the facility, our Wellness Center, group exercise areas, Base Fitness and common areas. The below outlines expectations, policies and procedures for Staff and Members.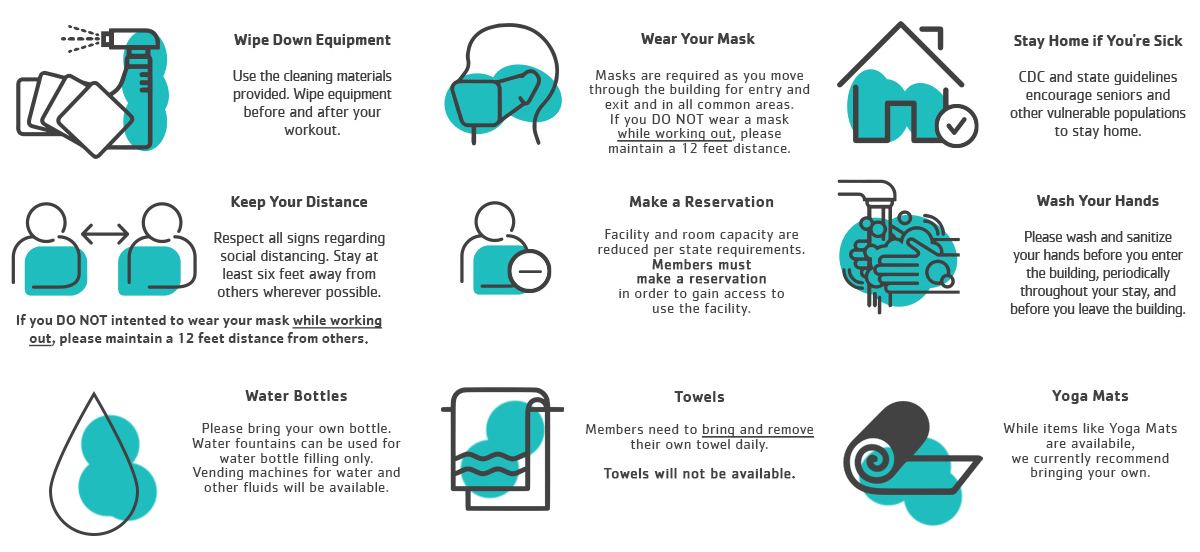 * No Guest or Nationwide Membership will be permitted for the foreseeable future
* All staff have been trained on COVID transmission prevention and new cleaning protocols
* Self-scan upon entry (staff will not handle cards, phones, or any other person's belongings)
* All staff, members and vendors will be asked to wash and/or sanitize hands upon entry and exit
* Staff will be asked to wash their hands frequently
* Staff and Members are required to wear a mask in all common areas of the building
* All Staff, Members and vendors who are unwilling to comply with the Y's COVID transmission prevention measures will be asked to leave the facility immediately
LOCKER ROOMS
– No access to Steam, or Sauna
– Showers reopening on Monday, July 20. Showers will be spray-sanitized at the top of every hour while the Y is open.
– Overnight rental lockers may be used to store sundry items only (i.e. sneakers, bands, toiletries, etc.). We ask that you do not store wet/ damp items such as sweaty workout clothes or towels.
– Bags are to be kept in locker or Wellness cubby
– Locker Rooms will be spray-sanitized each day, leaving personal items in you assigned locker could cause damage. The Y is not responsible for any items left behind (forgotten) or left over night in a locker.
---
UTILIZATION PROTOCOLS
Below, please find specific protocols depending upon which area of the facility you make a reservation to use. As guidelines and regulations continue to change at the state and local levels, these protocols may change as well.
Olympic Pool
* Come to the pool

– Wearing mask and bathing suit
– Pre-showered
– Toting own equipment and water bottle

* Lane Reservations

– 55 minute swim time limit/one swimmer per lane
– Rolling schedule to minimize interaction
– No more than 2 lanes changing every 5 minutes

* When you're Ready to Swim

– Move to marked, far-side of pool, to locate reserved swim lane
– Follow floor markings for 3-foot wide walking lanes
– There will be designated storage for your cover clothing and mask (tables)
– Remove mask and clothing
– Proceed to assigned lane

* Completion

– Return for your gear
– You can briefly use deck showers to rinse
– Exit facility

* Staff & Cleaning Protocol

– Staff can provide assistance and will also be responsible for cleaning gear storage and showers after each use, using the prescribed bleach/water mix so as to not contaminate the pool.
Wellness Center/Hallway Outside Wellness/Base Fitness Room
* Reservations 

– Reservations are required
– Capacity limitations for these locations (combined) will be for a total of 20 people for a 75-minute time period.
– Rooms will be vacated for a 15-minute clean before next group

* Masks

– Required during ALL workouts in the Wellness Center
– The ONLY exception is for use of the cardio machines, where members may temporarily lower or remove his/her face covering only once he/she has stepped onto the machine. The face covering must be re-positioned prior to exiting the machine. Members using cardio equipment with a lowered mask must maintain 12ft distancing at all times.

* Cardio Equipment

– Spaced 6 feet apart
– 30 minute time limit

– Wellness Associate can allocate more time to Member, if availability permits.

* Wipe down equipment upon completion
* Weight Training and Machines

– Completion of sets by Member
– No alternating/"working in" between sets.

* Benches to be moved by Wellness Associate
* Machines have tape on floor to mark workout space
* New turf installed in Hallway
* Exit through Mason St. doors
Group Wellness Classes
* Schedule

– Reservation for Group Wellness Class is required
– Upon completion of class, gym is closed for 30 minutes to clean and move equipment.

* Locations

– Spots will be marked with 12 foot parameters to permit exercise without mask
– Gym – will be utilized for some Group Wellness classes

– No pick-up basketball permitted

– Outside – basketball court/parking lot

– Classes are subject to weather

* Virtual options available
* Spin Studio

– Spin Bicycles moved to Gym where classes will be held
– Spin Studio will be temporarily repurposed for Personal Training and Small Groups
---
FACILITY UPDATES DURING OUR CLOSURE:
General
New Air Conditioning system installed and operating
Pools
Olympic Aquatics Center
New Dehumidification system for Olympic Pool is installed.
Refurbished the bulkhead.
Repaired tiles and various other pool deck sections
New air grills and broken window replacements have been ordered.
Pool is chemically treated within COVID-19 prescribed levels.
Alumni Pool
Emptied, cleaned, refilled
New Dehumidification System on order
Wellness Center
We have replaced several of our machines with upgrades.
New turf installed in hallway.
Cleaning and paint throughout the Center and hallways.
---