Y WORKOUTS @HOME
From our home to yours, amidst the closures and distancing, we will continue to serve our community as we have done for over 100 years in developing strong mind, body, and spirit.   Our entire YMCA of Greenwich team remains firmly committed to supporting the health and wellness of each and every member of our community, now more than ever.
While the environment around us is rapidly changing, we all know that the value of daily exercise and physical activity remains a constant for healthy living. Maintaining a regular exercise routine is critical in maintaining strength, reducing stress, and building immunity.  Of course, it never fails in letting off some steam!
Below are some great resources compiled by your YMCA team to bring our Y community to you, wherever you may be.   This resource page will update frequently to deliver fresh, innovative, and creative information.  Be sure to check back often!!
---
Have a workout to share with our community? We'd love to hear from you.
Send your home workout ideas to clavin@gwymca.org or tag us on Instagram @ymcagreenwich to show us what you're working on! 
---
VIRTUAL WORKOUTS
Exclusive Partnerships Benefiting Our Community
MOSSA MOVE
The YMCA of Greenwich has partnered with MOSSA to provide you amazing YMCA Group Exercise programs such as Strength Train Together, Defend Together, and more. Now you can work out from the comfort of your own home with instant access to MOSSA classes.
MOSSA Athlete30 Workout
MOSSA Blast Workout
MOSSA Centergy Workout
MOSSA Core Workout
MOSSA Fight Workout
MOSSA Groove Workout
MOSSA Power Workout
MOSSA Ride30 Workout
WANT TO ACCESS MORE MOSSA CLASSES?
Starting May 1, MOSSA will provide YMCA of Greenwich Members with a FREE* 14 day trial of MOSSA MOVE. MOSSA MOVE provides nine different types of workout ranging from cardio, strength, and mind body programming.
Each workout is designed with options and modifications so you can choose the intensity and challenge that are just right for you. Combine cardio and strength programs to maximize results! Work out from the comfort of your own home – on your TV, on your computer, or download the app and take your workouts wherever you go.
Start Your 14 Day Trial*
* A credit card is required on this offer. Your 14 day free trial begins when you sign up. After the free trial, the monthly subscription cost for MOSSA MOVE is $7.99/month. To avoid being charged, you must contact MOSSA and cancel before the date indicated when you signed up for your trial. This transaction is between you and the MOSSA MOVE service, independent from the YMCA of Greenwich.
Free workouts, for the whole family! Enjoy the same programs you love at the Y – from your own home! With YMCA 360 browse over 95 workouts that you can play from any device – phone, computer or internet-enabled TV – no subscription required. Offers online Yoga, BootCamp, Barre and more classes from 5 minutes to 30 minutes. Choose what you like and keep your mind relaxed and body moving.
YMCA 360
LES MILLS
Les Mills is sharing a free streaming platform for all Ys to support their members outside the four walls of the Y! From Barre classes, BodyCombat, HIIT and more these classes will keep you active and inspired!
Les Mills @Home Workouts
With all that is going on in the world today, we need to be able to process and allow an emotional release, or at least some quiet in our minds. This series of guided meditations has been developed to make experiencing the benefits of mindfulness easy.
VIRTUAL PROGRAMMING
The YMCA of Greenwich has partnered with several of our neighboring YMCAs to expand our virtual class offerings. With the help of our YMCA partners in Darien, Wilton (Riverbrook), and Brookfield (Regional of Western CT), we are keeping you moving from the comfort of your home.
If you would like to register for a virtual class hosted by another Y (highlighted in blue), please email or call the hosting Y to register.  Contact information for all participating Y's is listed below and by clicking here.
Please contact Christine Lavin, Senior Director of Initiatives, at clavin@gwymca.org with any questions.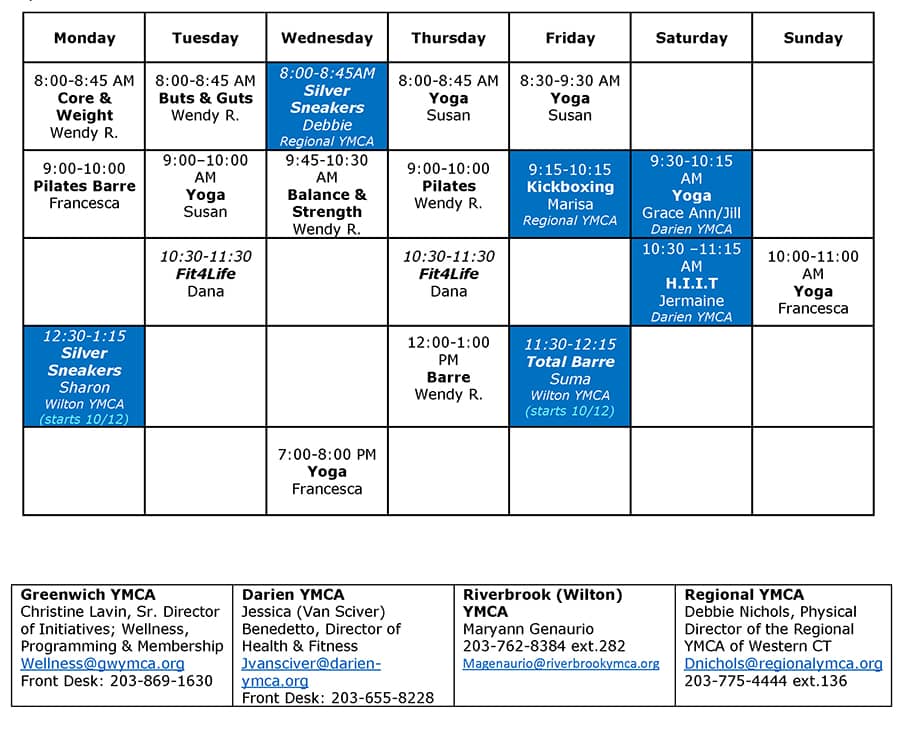 ---
DPI Adaptive Fitness
– Offering several different classes for all abilities including our Rock Steady Boxing class, Balance and Core, Mighty MSers and possibly more. These classes will ALWAYS be live streamed, will not require any extra equipment on your end and will be a great way to continue to maintain all of the progress you have made with us. Click
here
for their live class sign up.
---
DRYLAND WORKOUTS FOR AQUATIC FITNESS
SWIM.COM Workouts
---
DISCLAIMER: Please note, the above videos are not produced by the YMCA of Greenwich and we do not own the rights to these videos or any of the music that may be used in them. For additional information, please see the creator's YouTube channel, direct website, Instagram page, etc. where the content was originally published. Reference or links in this website, blog, e-mails, programs, services or products to any other business or entity's information, opinions, advice, programs, services, or products do not constitute our endorsement or recommendation. We are not responsible for the contents of any off-site web pages, companies or persons linked or referenced in this site. The YMCA of Greenwich strongly recommends that you consult with your physician before beginning any exercise program. You should be in good physical condition and be able to participate in the exercise. You should understand that when participating in any exercise or exercise program, there is the possibility of physical injury. If you engage in this exercise or exercise program, you agree that you do so at your own risk, are voluntarily participating in these activities, assume all risk of injury to yourself, and agree to release and discharge the YMCA of Greenwich from any and all claims or causes of action, known or unknown, arising out of the YMCA of Greenwich.