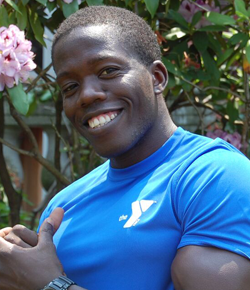 Turbo Sweat MR 1/2 with Brandon Mubuuke
International Sports Sciences Association Certified, Zumba Fitness
Having been a competitive kick-boxer and body builder, Brandon does not like to lose and brings the same energy to his clients. He will make you rise to the challenge, and "I can't" is not an option with Brandon.
Look for Brandon if you'd like to take your training to the next level, whether you'd like to work on land or in the water, Brandon knows how to push you to your limits. Brandon uses the space he works in as inspiration, so he'll either work with you in the pool, up the stairs or in the boxing ring. Whatever it is he will make you sweat.
You've probably heard his loud music on Putnam while he teaches Turbo Sweat and Cardio Boxing. Come check out his classes!