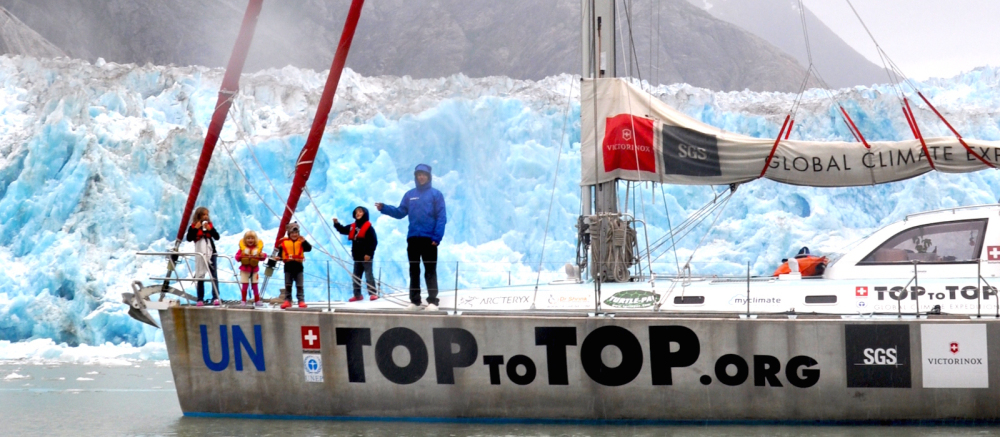 Join us for a free presentation about their life at sea studying climate change
WHO: Schwoerer Family, TOPtoTOP Global Climate Expedition, YMCA of Greenwich
WHAT: Free Presentation by the The Schwoerer Family regarding their TOPtoTOP Global Climate Expedition
WHEN Wednesday February 8, 7:00 pm – 8:00 pm
WHERE: YMCA of Greenwich – 50 East Putnam Ave, Greenwich
The Schwoerer Family has circumnavigated the planet traveling over 100,000 nautical miles to more than 100 countries to fulfill the TOPtoTOP Global Climate Expedition. The purpose of documenting and championing environmental concerns of climate warming, pollution, and use of renewable energy sources.
The expedition leader, Dario Schwoerer, an accomplished Swiss mountain guide and climatologist, along with his wife, Sabine and their five children, ages 1 to 11 years, will present their fascinating story with video, photos, and first-hand accounts of adventure around the globe. They will talk about their journey, field work, and education initiatives to preserve and protect the planet.
This is a free event, open to the entire community. Children 5 years of age and over are invited to attend.
RSVP by calling the YMCA at 203-869-1630 or email frontdesk@gwymca.org