by Dipti Joshi
A very important reason to exercise with aging is preservation of brain function. Aerobic exercise like walking and running can have a significant impact on future cognition by increasing brain volume. Music has the ability to improve aerobic exercise performance in positive ways (studied in seniors), but what does aerobic exercise do for professional musicians and their brains? There doesn't seem to be many large comprehensive studies looking at this, but studies do suggest the following:
Professional musicians have higher cardiovascular demands than you may suspect during performances, and in comparison to rehearsals, and sedentary persons.
Musicians can have positive performance benefits from engaging in endurance exercises specifically for the upper body in terms of posture and endurance. Many say that aerobic exercise helps with performance anxiety.
Specific exercises and occupational therapy may help prevent and manage repetitive injuries that musicians face, especially in their hands and wrists, like dystonia.
Professional musicians have highly developed brains, already protecting them from the effects of aging like memory impairment.
It's great to try to decipher things from a desk, but chatting with a prodigious, talented case study, who is about to perform at Carnegie Hall again this Wednesday, was more fun! More below:
---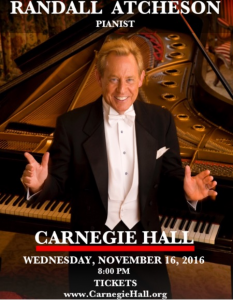 If you want to know how Randall Atcheson got his start, just ask him because he is gracious and approachable. This concert pianist and organist currently teaches 100 piano lessons per week, gives concerts around the world, is the Minister of Music at the First Presbyterian Church in Greenwich, finds time to run and exercise daily, and is the creator of one of our favorite routes, Randy's Note (thank you, Ric Wellington for the creative and befitting name). Inspirational.
DJ: Tell us something about yourself:
RA: I just turned 65 this October and it was a glorious day. My wife was a little nervous about letting me run the NYRR Marathon because it was too close to my Carnegie Hall performance, so I decided to run my own marathon at Tod's Point that day. I ran 27.1 miles. It felt great! I taught piano lessons and drove to Carnegie Hall after.
DJ: Uh…Wow. How are you preparing for your next concert and what makes you resilient under pressure?
RA: I was accepted to the Samford School at the age of 12, and started playing professionally in front of large crowds. Honestly, it does take nerves of steel, but I started very early.  I host a Thursday dinner for choir members each week and it's a way to have fun. My goal was to go to Juilliard since it was the best music school. I moved to Greenwich at the age of 19, after being accepted. I spent the next 10 years there since I wasn't sure what I was going to do professionally, but the intensive training made it easier to perform. I am so lucky to live in Greenwich and feel inspired by people here, all the time.
DJ: Tell us a little about your fitness journey:
Football is big in Alabama, where I come from. I noticed how athletic my peers were when I moved to Greenwich, as well, so I started running then, and I run daily. I am slow but have very good endurance. I love the solitary aspect of running. My work requires so much stamina and exercise helps me with that. I've been lucky so far and haven't experienced injuries.
DJ: What are your marathon training secrets?
RA: I ran the NYC Marathon last year and raised over $18,000 for Fred's team. It was great to contribute, have so much support, and help, but I equally enjoyed my own quiet birthday marathon run, this year.  I used the Fred's team training program. The hard part was to restrain myself from running a lot the week before the marathon. I am looking forward to running the NYRR Marathon in 2017!
DJ: What are your favorite classes at the Y, and why are you a member of the run/walk club?
RA: I enjoy spinning and bootcamp. I like the accountability that the run club provides, and a little bit of competition is quite motivating.
DJ: What is your best diet tip?
RA: I lost 60 lbs. a few years ago and I try to have 3 regular meals a day with 2oz of protein at breakfast, 2oz at lunch, and 4-6oz at dinner. I limit my intake to green vegetables and gave up fruit so I can have one glass of wine daily.
DJ: Any future fitness goals?
RA: I would like to run the Paris Marathon.
DJ: Any advice you can give your fellow musicians?
RA: Get enough sleep, eat well, and exercise everyday for at least 20 minutes. Even the simple things count, like walking.
DJ: Dream Adventure:
RA: Giving concerts in Antarctica and Africa, so I can reach my goal of playing on every continent.
DJ: Food or drink you have a weakness for:
RA: Diet soda…I know, I know.
DJ: Oh no, that's definitely music to our ears.