by Dipti Joshi
Brian made his NYC Marathon run for Memorial Sloan Kettering's Fred's Team an ongoing, all-inclusive Greenwich Y Run/Walk Club event by including so many of us throughout his personal journey.  Our new sports reporter, Adam Rothman, provided some of us with a half hour play by play, tracking Brian via his bib number through the race. Brian surpassed his time goal. It's been fun!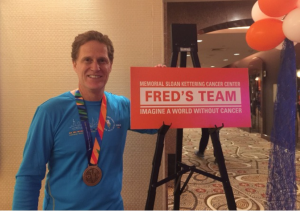 Here is what was going on with Brian 10 days ago:
DJ: How have the last few weeks been for you?
BB: I am feeling great!
DJ: What is the most mileage you have run so far in a day?
BB: 22
DJ: When did you start training?
BB: June 29th, my birthday
DJ: Why is this a goal?
BB: I moved to NYC in 1985 and always wanted to participate in the Marathon
DJ: How are you feeling?
BB: Honestly, both nervous and excited!
DJ: Post marathon goals?
BB: Going to Disney World or joining the YMCA swim team.
Before, during, after the big event:
DJ: Your thoughts before the race:
BB: Nervous, but I had downtime before the start, so I talked to different levels of runners from all over the world, and that eased the anxiety. It was so interesting to meet so many people at this event.
DJ: Something you wish you had with you while running:
BB: Another pair of legs.
DJ: Thoughts/challenges while running?
BB:
1. Mile 1. How am I going to keep my hat on? I had my hat on at the start of the race from the Verrazano Bridge and didn't even consider taking it off, because I always trained with it. It was extremely windy, and, both my hands were on my head for a mile, or so.
Next race, I am carrying a mop so I can wipe up all the GU that was first quite slippery and then sticky, leading some of us to run with tissues stuck to our sneakers for some distance.
I constantly thought about my good friend who died of melanoma, my courageous brother-in-law, and my dear cousin, who are both battling cancer now, and others I knew who passed away from cancer. I had a real purpose to my run, which was to raise money to cure cancer. I was able to raise over $7000!
The first 13 miles are flat, the next are all incline. Oops!
Wow! The support of all the people, bands, etc, along the race is amazing and is so encouraging!
There were a 1000 Fred's team people running and we all nodded or said a few words of support to each other along the way!
With two miles to go, I was sooo eager to get to the finish line.
Wow, I was lucky that I never hit the wall. Energy levels were fine.
DJ: How did you stay injury free all these months?
BB: I chose a training program created by running pros, adhered to the guidelines pretty strictly, and had to give up things I love like tennis, bootcamp, spinning. I had two rest days and took advantage of them by practicing yoga, relaxation, and walking. On long run days I would just run to yoga class and stretch there. These things really helped me tune into my body.
DJ: How did you feel after reaching the finishing line?
BB: Very hungry! Then, I was really cold and even needed help getting my hood on because my hands were frozen. People were eager to help me and did so while I walked over the temporary 72nd street bridge built over the runners. I was heading over to meet my family after being in the Memorial Sloan Kettering tent, where they fed me really well!
DJ: Diet tips?
BB: I stopped my moderate Friday night drinks before long Saturday runs this past month, and I noticed that I felt better and less dehydrated. Eat protein and carbs, especially after the race!
DJ: A few last words..
BB: Kathy Bennett ran the marathon last year and got everyone involved. I ran with her and she said, "Brian, you can run a marathon!" I took her words and encouragement very seriously, and had the support of the Greenwich Y Run/Walk Club. People ran with me while I was training because I took Kathy's lead from last year and let people know. Everyone should know that anyone new, or experienced training for a marathon can run with our club because we have a great supportive training environment. I encourage anyone who is considering it, to know they can do it, too!
---
Congratulations to Hamid Asgari and Ashley Carey for rocking the NYC Marathon, David Bencivenga, for completing the Baltimore Marathon and trumping (no political affiliations, for SAT purposes, only) his own previous marathon time by 34 minutes! See our exclusives below: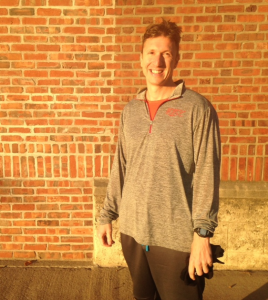 DJ: When did you decide you want to run the Baltimore Marathon?
DB: April 2016. I couldn't get into the NYRR Marathon (official name of NYC Marathon, in case you are wondering) for 2016 and my goal was to run one for this year, so I decided to run in Baltimore where Joe, my brother, lives.
DJ: Have you run marathons before?
DB: Yes, two. Brooklyn 2011 and 2012
DJ: Did you use a specific training regimen?
DB: Nothing specific. I staggered group runs, races and solo runs during the week. I also did the NYRR 9+1 Program to get me guaranteed entry into the NYC Marathon in 2017. NYRR has great training for marathons in Central Park.
DJ: How did your time improve so much?
DB: I increased the amount of training runs and started cross training. I improved my core strength from taking classes with Wendy. I learned so much and became stronger.
DJ: What are your best fitness training tips:
DB: Listen to your body. Pace yourself, push yourself, rest, and eat a balanced diet.
DJ: Which classes do you take at the Y?
DB: I take an evening HIIT class, TRX, stability ball/barre, spin.  I recently added meditation, as well.
DJ: What is your best diet tip:
DB: I try to eat proteins with all my meals and limit carbs and sugars.
DJ: Any other goals?
DB: I want to run the Philadelphia Marathon on November 20th. It is a bit close to my last one, but I am feeling good, and, I'd like to try it. My goal is improving my time, but it's more important for me to stay healthy.
DJ: What injuries did you suffer from during training?
DB: Nothing specific. Usual running pains, but I rested and stretched as needed by tuning into my body.
DJ: What's your best advice for a beginner who wants to run a marathon?
DB: Start off slow, especially if fresh from the couch. I had terrible eating, sleeping habits, and put on weight before I decided to run. I was in great partying shape! I just started with a mile at my local high school track to test myself. I did it and the motivation started from there. I ran locally in my neighborhood a couple of times a week and then eventually aimed for a 5K. Next came a 10K, half marathon, etc. Try to run 2-3 times a week to get acclimated.